Asset Publisher
Asset Publisher
Obiekty Turystyczne w Nadleśnictwie Sława Śląska
Ścieżka rowerowa "Nad Sławskim Jeziorem"
Ścieżka rowerowa w Nadleśnictwie Sława Śląska stanowi doskonałe miejsce aktywnego wypoczynku dla dzieci i młodzieży. Trasa ścieżki urozmaicona jest dziesięcioma tablicami edukacyjnymi, dzięki którym można zaznajomić się z bogactwem przyrodniczym najbliższych okolic Jeziora Sławskiego. Podczas zwiedzania nie tylko możemy zasięgnąć wiedzy, ale również z bliskiej odległości podziwiać piękno krajobrazu przyrodniczego.
Przystanki tematyczne na trasie ścieżki:
- Natura 2000.
- Jak zbudowana jest sosna?
- Wyspa Kormoranów.
- Świat ryb.
- Rola wody w ekosystemie leśnym.
- Pojezierze Sławskie.
- Płazy Jeziora Sławskiego.
- Owady wodne Pojezierza Sławskiego.
- Hydrografia Pojezierza Sławskiego.
- Węże Pojezierza Sławskiego.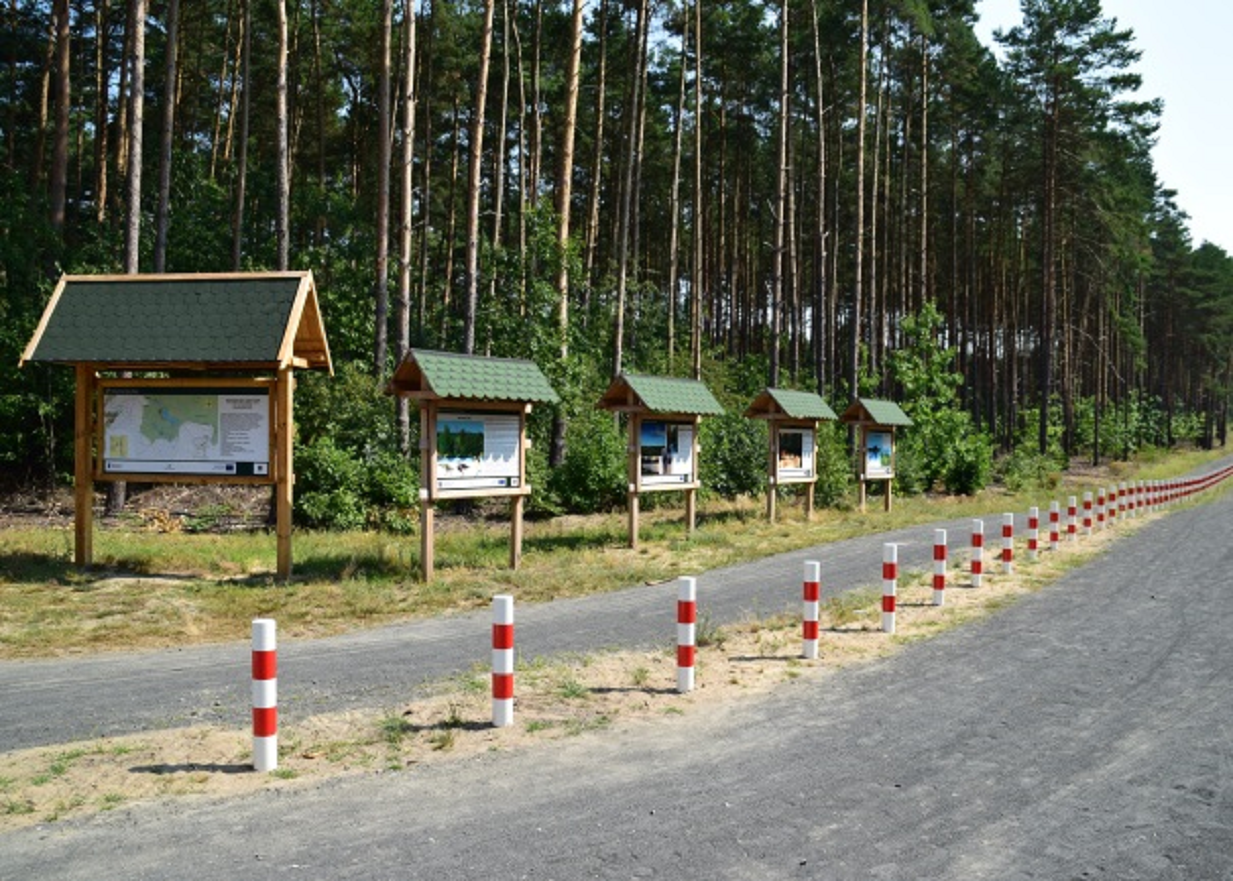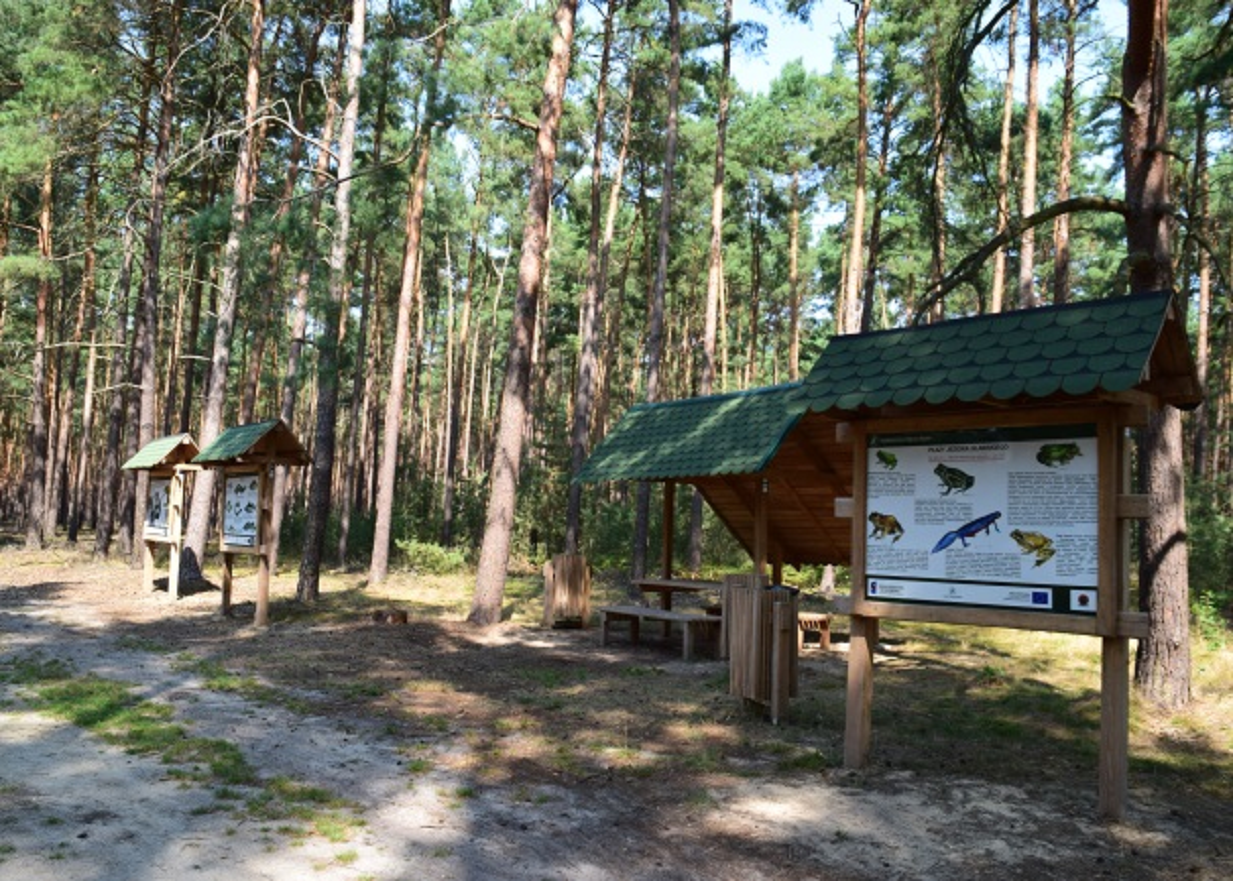 Wieża widokowa przy polanie Świętobór
W sąsiedztwie polany rekreacyjnej Świętobór zlokalizowana jest wieża widokowa. Obiekt posiada szkieletową konstrukcję drewnianą i mierzy ok. 40 m wysokości. Z wieży roztacza się panorama na sławskie lasy i jeziora, w szczególności na Jezioro Sławskie.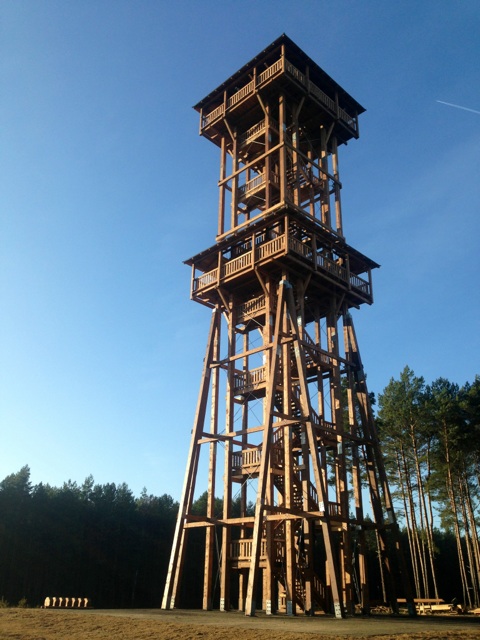 Plac rekreacyjny na polanie Świętobór
Polana rekreacyjna Świętobór przy miejscowości Święte wyposażona została w dużą wiatę turystyczną wraz z wyznaczonym miejscem na rozpalenie ogniska wokół którego można przysiąść na drewnianych ławkach, a w razie konieczności schronić się przed deszczem pod drewnianymi zadaszeniami. Przy wiacie umiejscowiono 10 barwnych tablic edukacyjnych, z których można dowiedzieć się wielu przyrodniczych ciekawostek. W bezpośrednim sąsiedztwie wiaty zlokalizowano plac rekreacyjny; każdy - bez względu na wiek – może tam sprawdzić, a w razie konieczności poprawić swoją kondycję fizyczną. To właśnie tu znajdują się urządzenia przeznaczone do ćwiczeń na wolnym powietrzu dedykowane młodzieży i osobom dorosłym; nie zapomnieliśmy również o najmłodszych turystach, na których czekają huśtawki, niewielka karuzela i mały linowy mostek.
Turyści mogą skorzystać z:
• drewnianej wiaty turystycznej,
• miejsca na ognisko na zewnątrz wiaty,
• zestawu ław ze stolikami z zadaszeniem,
• siłownia na wolnym powietrzu.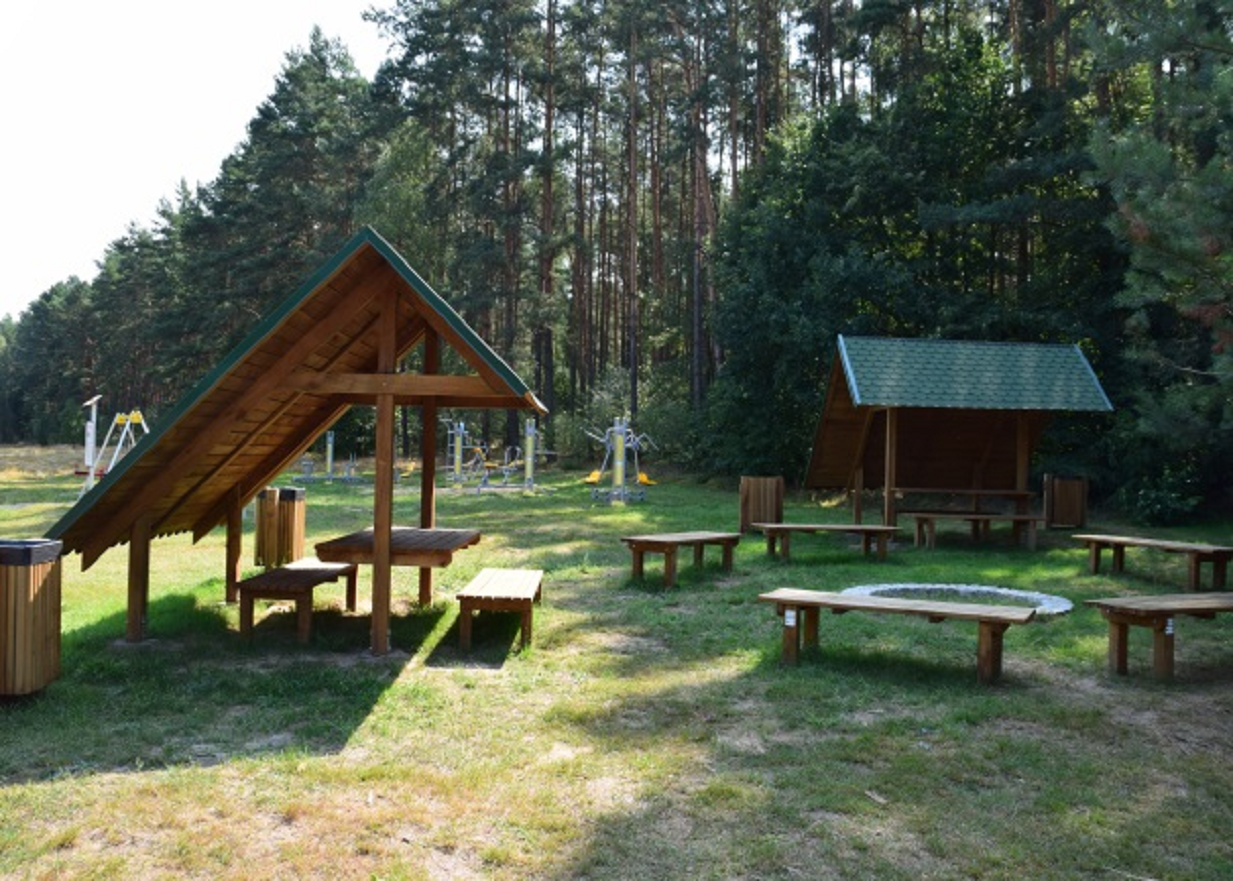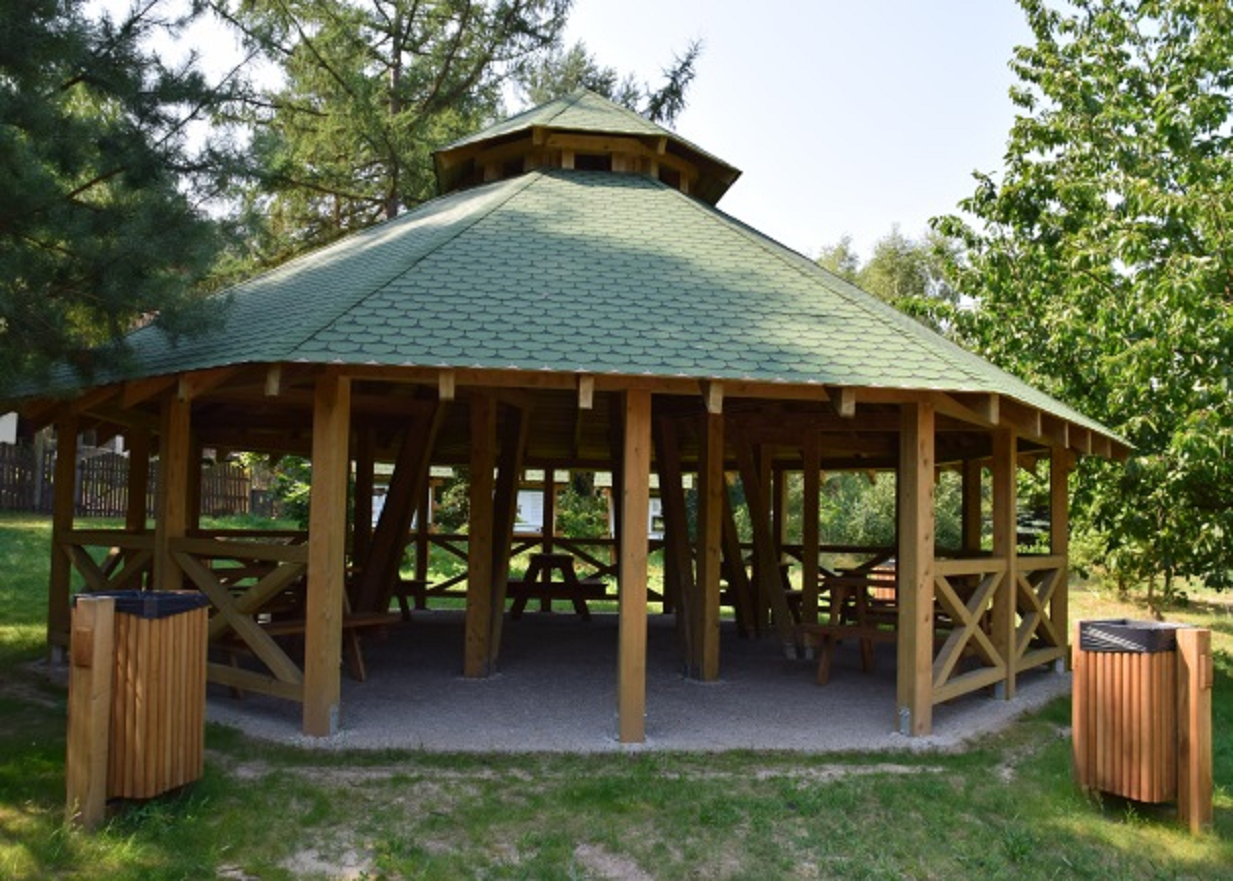 Punkt widokowy "Ptasi Raj"
Obiekt składa się z drewnianej platformy widokowej oraz dwóch tablic informacyjnych. Platforma zlokalizowana nad brzegiem Jeziora Sławskiego, umożliwiająca podziwianie jeziora wraz z tętniącym na nim życiem. Jest to doskonałe miejsce do obserwacji oraz fotografowania awifauny jeziora. Przy punkcie widokowym znajdują się dwie tablice edukacyjne przybliżające czytelnikowi gatunki ptaków wodnych oraz informacje o samym jeziorze.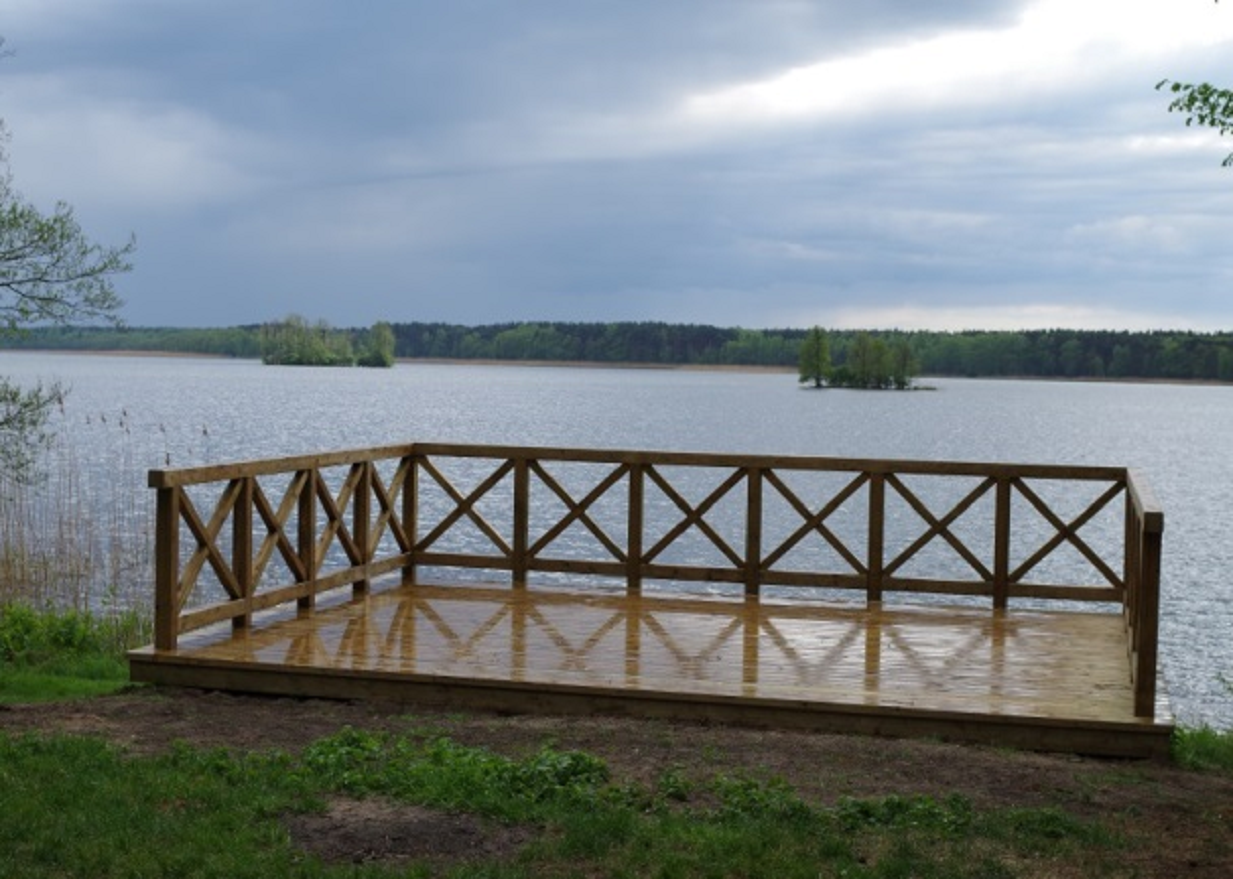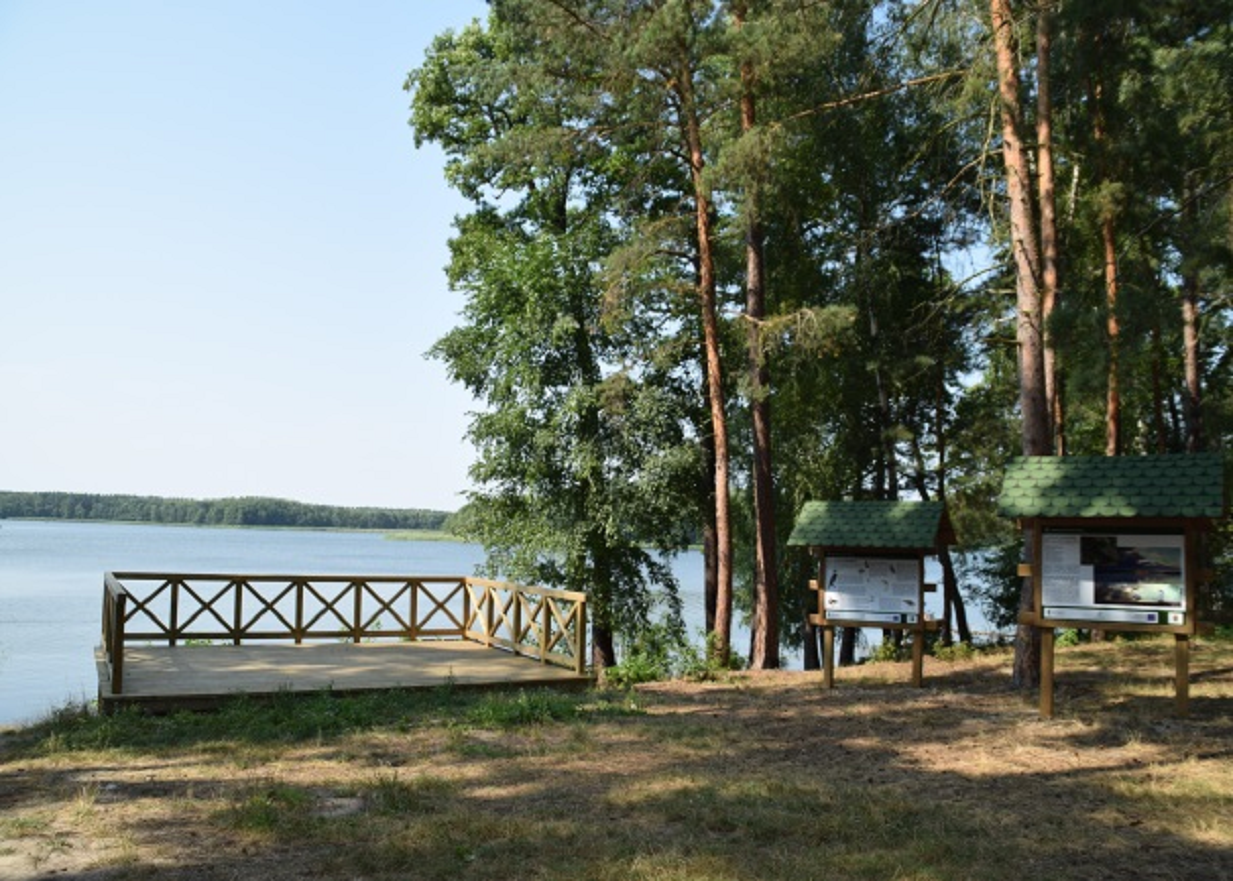 PLACES AND OBJECTS
The forests of the Forest District Sława Śląska are located within the area of very interesting landscape and numerous natural values. In the area of the Forest District, there are 10 lakes including the biggest one called "Śląskim Morzem (Silesian Sea - Schlesiersee)" – Sławskie Lake with its area of 854 ha. This is marvellous place for sailors. This is also a place, where regattas and swimming marathons take place.
Numerous hiking trails, bicycle paths and nature trails let tourists get acquainted with natural values of the forests of the Forest District. Sława forests are real paradise for the pickers of the forest groundcover. One can pick up blackberries and mushrooms growing here abundantly.
Many parking lots are made accessible to the public, at the same time located near more important communication trails. They enable tourists to leave cars and give possibilities of doing active recreation. There are also places for preparing meals – benches, shelters.
Within the area of the Forest District, there are many nature reserves " Święte Lake" and "Mesze"(see: nature reserves). Areas of protected landscape: "Rynny Obrzycko-Obrzańskie", "the Sławsko-Przemęckie Lake District", "Nowosolska Dolina Odry" (see: areas of protected landscape), numerous natural monuments, such as trees and glacial erratic (see: natural monuments). The most valuable and the most unique for their natural values, these areas where registered into European Ecological Network "Natura 2000". These are the following: Dolina Środkowej Odry, the Sławskie Lake District, Nowosolska Dolina Odry , Żurawie Bagno Sławskie (see: areas of Natura 2000).
In Sława and its neighbourhood, there are organised plenty of various events in the open air annually, namely: "Lato bez granic", "Summer Rock Festival", "Wybory Miss Sławskiej Plaży", "Stachuriada", "Las Woda Blues".
Moreover Sława Śląska with the surrounding areas abounds in historical monuments of material culture. In the forests of the Sub-Districts Kochanowo and Sława we can come across pre-war granite roadside signposts and stone posts. Within the Sub-Districts:Sława (the Forest Rangers Area Tarnów) and Kochanowo (the Forest Rangers Area Świętobór) we can visit pre-war protestant cemeteries ( the oldest gravestone comes from 1873). In the Forest Rangers Area Tarnów, we can encounter early mediaeval castle (remaining of borough).
The greatest attraction being situated withinthe Forest District Sława Śląska is undoubtedly a large water region of the total area of 854 ha. It is Mekka for sailors, all the fans of water sports and nature lovers, because of fauna and flora richness. Numerous public beaches, which are located by the lakes of the Forest District ( there are 10 of them namely:Sławskie Lake, Tarnowskie Duże, Tarnowskie Małe, Błotne, Młyńskie, Młyńskie Małe, Święte, Mesze, Pluszne, Głuchów, Dronickie, Rudno, Wilcze, Wuszno, Jeziorno, Brzezie) attract tourists, too.
To the most interesting historical monuments of Sława belong:
· parish church of St.Michał – built in Gothic style, but rebuilt over and over again; for the special attention deserves late Gothic sculpture of Pensive Christ, the main altar and the pulpit dated on the beginning of the XVII century and gravestones from the XV and XVII centuries,
· palace and park complex – built in the years 1732 – 1735 on the ruins of the XV century castle; in front of the palace there is specious courtyard w large plane trees and Baroque figure of Jan Napomucen.
According to the legend, the name "Sława" derives from the name of the Sława palace owner' daughter – Witosława. Witosława was to be playing by the beach, when her childminder slept over by the lake consoled with the quietness of summer day, the nymphs took a little Witosława to the underwater kingdom. Desperate father , relatives and servants spent a lot of days looking for Witosława along the lake shores, calling the girl's name. Echo spread these callings over the water surface, being echoed from the forest wall. One could hear there distorted name:...sława,...sława. Since then, the lake and the village were to be called Sława.
Other interesting places within the Forest District area:
· the church built at the turn of the centuries XV-XVI from the field stone and brick in Krzepielów nearby Sława,
· the church built in the XVII century and the palace from the XIX century, in Krążków,
· the summer villageLubiatów, with Lubiatów harbour by Krępińksa Bay (Zatoka Kępińska) of Sławskie Lake,
· Stare Strącze – the village, where one can see erratic boulder "Mietek", the manor – house and the distillery from the XIX century, the ruins of post- German bunkers'
· Tarnów Jezierny – the village with the hunting palace from the XVII century; there is possibility to hire it for conferences and business meetings,
· Bojadła – Baroque park and palace complex,
· Siedlisko –palace complex with the park,
· Kuźnica Głogowska – the water mill built at the turn of the centuries XVIII-XIX,
· Kolsko –palace complex with the park from the second half of the XIX century.
Asset Publisher
Asset Publisher
Asset Publisher
Asset Publisher